Sweet ABDL Mommy Candy
April 21, 2013
Spanking Fun!
April 22, 2013
The art of a bdsm mistress & domina mother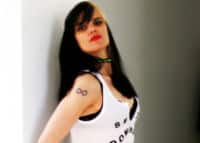 It is such a great time with me as a very scary domina mother .
My voice commands tones that make you quake in your steps.
Eyes that could shut down a naughty adult baby with one look.
Arms that wield  paddles of all shapes and sizes.
Lips that can melt minds into whatever way of thinking I deem fits the situation.
legs that go on for days & a walk that you can not stop thinking about as I parade you in front of all
the horrified parents at the park in your pink bonnet and diaper asking them if they think you are
a bad abie? Better behave or you will feel the sting of my spankings.
Ruthless & wicked
Veronika