Miss veronika's Sexy teacher roleplay
August 22, 2012
Reasons to Spank
August 23, 2012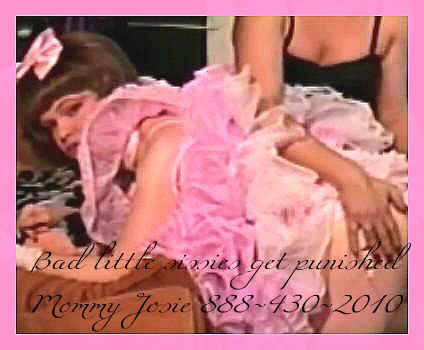 I had a call with a certain little sissy we will call Debbie. Debbie could just not behave herself for mommy and was really asking for some sissy punishment. She was so naughty getting into mommy's makeup and making a HUGE mess all over my dressing table. Then when I put her over my knee and pulled down her panties to give her a good spank on that bare bottom, she actually got sassy with me! Can you believe it!! So mommy had to teach this naughty little sissy a good lesson. Some of you out there have already heard or experienced Mommy Josie's favorite spanking implement, the hairbrush.
I have a large old fashioned hairbrush that sits on my dressing table. It is round with a flat back and perfect for reddening the bottoms of naughty ABies. I usually start out with my hand on a bare bottom, but if you really want to push mommy's buttons, you will get the brush.
Have you been a bad little ABie or sissy today? Are you in need of some good punishment? Almost all ABies and sissies need discipline at some point and although I prefer to spoil and be a sweet, loving mommy, I do not skimp on the spankings when needed. It is all part of being a good mommy.
Call Mommy Josie