spanking sex
May 30, 2012
Not Just a Phonesex Mommy
June 3, 2012
Petticoat Punishment: A Special type of Discipline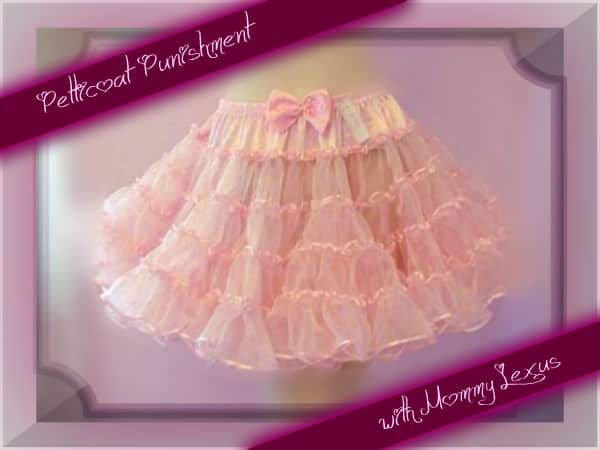 I try to be an understanding AB Mommy.  I try to be patient and sweet.  I really am a loving and tender ABDL Mommy to those Adult Babies that are well behaved and do as mommy tells them.  I don't ask for much, really: don't back talk, be kind and thoughtful to others, and the most important of all – do as you are told.
Now from time to time I come across a little one who tests my boundaries and beyond.  They defy me at every turn, are mean to other little ones and quite honestly, are on the verge of becoming bullies.  This I will not stand for.
So for them, a strong dose of humiliation is in order.  This particular brand of humiliation comes in the unique form for petticoat punishment.  Pretty pink dresses, layers of frilly petticoats, along with white anklet socks edged with lace and Mary Janes – everything girlie and pretty and feminine would be thrust upon them.  And the cherry on top of this special type of discipline is the wearing of diapers and pretty pink plastic panties (which is for use as well as for show).
A month of being publicly paraded about as a pretty little baby girl is usually quite effective in driving out any form of defiance in the most unruly of little ones.
So tell me, which one of you is in dire need of some petticoat punishment?
Dommy Mommy Lexus