Sex Ed Teacher Ava
May 12, 2013
Slippery mommies day
May 13, 2013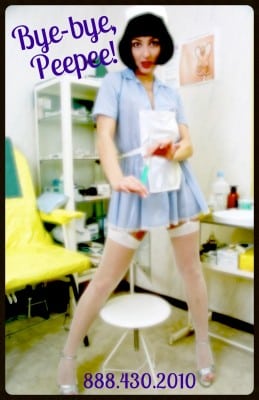 I'm sure you're wondering what you're doing here today, hmm? Your Mommy brought you to me but she didn't exactly explain why you were coming to visit a nurse who specializes in adult babies. I know that for a long time now, Mommy has treated you as her babi girl, even though you have those pesky boi parts hmm? Well you see, she's ready to take the next step now – to make certain that you don't get yourself into any trouble with that peepee.
Today is the first day of your new treatment plan. Give me your arm so I can administer the first dose. Now no resisting dear, you wouldn't want the syringe to end up somewhere it isn't supposed to go, now would you. No, I didn't think so. That's better, see, one quick and easy shot and its all done. Now your Mommy will bring you here every few months to administer the shot and we won't have to worry about your pesky peepee causing any problems. Alright then sweetie, take your lollipop and be on your way.
Oh, what does the shot do? It's a high dose of birth control. Hehehehe, I know you can't get pregnant silly, but with that shot your little peepee wont work either! Bye-bye now, see you in a few months!
Nurse Betty
888-430-2010