Relaxing with Mommy
October 13, 2012
Mommy's Night Out
October 16, 2012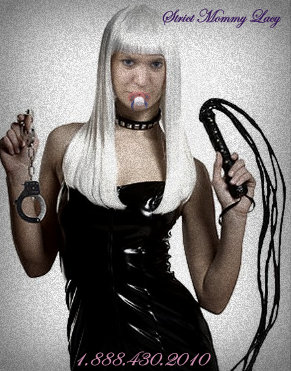 I can never decide if I like being an ABy more, or a mommy… they're both so fun! One of the special ABies that I'm a mommy to called me a this week and reminded me how much I love being a mommy.
Anyone who knows me knows that I'm usually pretty sweet and gentle. But this particular ABy requires a firmer hand. He just loves to be my husband who I force into diapers and punish. Every time he calls me I have him show me the toys we have to play with. This past time he had a pacifier and a belt, and he was of course wearing his diaper.

I told him that I was sick of his inability to satisfy me and that from then on I was going to keep him in diapers and treat him like the ABy he was. I made him get on his hands and knees and push out a big poopy while he sucked on his pacifier. When he was finished I had him turn over and squish around in his smelly diaper and spank himself with the belt on the inside of his thighs. Oh he cried and whined and told me that he would be better and I didn't have to punish him anymore. I laughed and told him we were just getting started! I told him he'd have to watch while I got satisfied by a real man. Oh no please he cried pathetically. I couldn't help but laugh, I love being a playful ABy, but sometimes it just feels so good to be a strict mommy.
love, Lacy
1.888.430.2010