Stocking Fetish
May 10, 2012
Happy Mothers Day ABDL Mommies
May 12, 2012
My night was so arousing tonight I had the absolute pleasure of playing with a phone friend who was really into the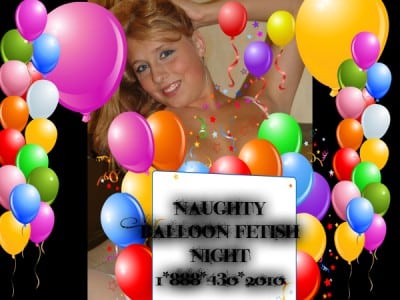 Imagine a room filled with balloons and all kinds of colorful streamers and me layed out in the middle
with a see through black nightie and black stiletto heels ready to play!
He said he really loved the sound of a ladies lips as they are blowing up a balloon.
"Mommy Crissy, will you suck my big balloon cock" he asked I said I love to suck balloon cock
it tastes like cotton candy.
You have to get them nice and wet first.
I did as he told me and he started to moan as I started to blow up the balloon  and breathe sexy for him. Then he said he
wanted to have some hot wet fun. He told me to climb on his big hard cock and I did I started to ride him vigorously.
He said "Feels so nice to have you with me, oooh here I go" he said. I said oh yea!!
"Oh I am getting bigger and bigger and bigger and bigger" he sighed and moaned.
"Oh yes you are so so big!" I exclaimed.
Want to have a fun filled sexy time give Mommy a call tonight.
1*888*430*2010
or international
714*442*2402
yim:phonemommycrissy