Adult Baby Picnic for Memorial Day
May 18, 2013
a Cruel Mistress in her classroom
May 21, 2013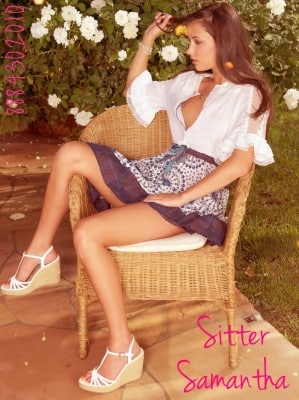 Mmmkay, so your mommy said there's a bunch of work around the house she wants done today. Mopping the floor, dusting, vacuuming, scrubbing the toilet, and a whole bunch of other stuff. But here's the thing… I don't wanna do any of that! SO – today you're actually gonna be useful haha!
I'm just gonna put you to work all around the house while I "supervise" you. And by that, I mean I'm just gonna sit in whatever room you're cleaning and look up every once in a while to point out what you're doing wrong haha! Lets start in the kitchen hmm. I'm just gonna sit up here on the counter and read my magazine while you start with the dishes. And hurry up, 'cause after that you need to mop the kitchen floor, and like I said, there's a whole list of stuff you need to get done in the next couple hours. When we're (you're) all done in here I think we'll move on to the bathroom. I want you to scrub that toilet with a toothbrush… hehehe maybe YOUR toothbrush, and leave that porcelain sparkling.
You better do a good job too. I don't want your mommy coming home and getting mad at me 'cause you were slacking off. I want her to come in here and be soooo happy about how clean everything is so I can take ALL the credit and get myself a nice little bonus hehe! Oh, and if you even think about telling her that I made you do all the work I can guarantee you'll regret it the next time I babysit your little loser butt.
xoxo Samantha
888.430.2010