Adult Baby Tee Shirts: Thoughtful Gift or Diabolical Punishment?
March 30, 2012
Adult Baby Slumber Party
April 1, 2012
ABDL Phone Mommy In Your Easter Basket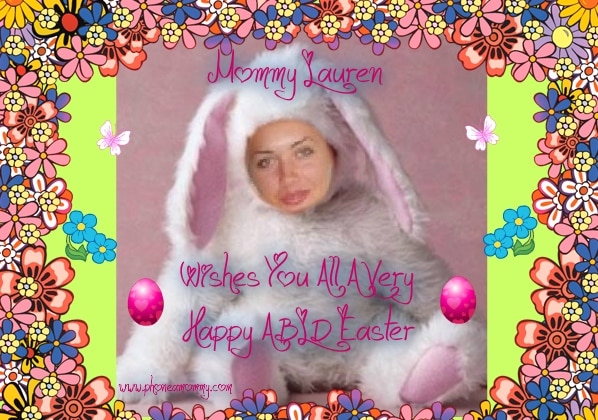 Aren't there times when you wish you could just close your eyes and wish your ABDL Phone Mommy of choice to appear right there in front of you?  Since that really is not an option, wouldn't it be fun to have your Mommy show up in your Easter Basket next Sunday as an adorable, stuffed Bunny? Just think of how exciting it would be, knowing that the Easter Bunny had come whilst you were sleeping soundly, then jumping out of your crib, or toddler bed, running downstairs, and finding a hugable, soft, squishy Mommy Bunny in your Basket!
Now as we all know Easter has a much deeper meaning then candy, eggs, and the fake grass that never goes away. A lot of people go to Church on Easter to celebrate the One who was Risen. Imagine walking into Church in your little pretty dress, or cute little suit, holding onto your new Mommy Bunny!
This year while you are hugging your new stuffed Easter animal of choice. Just close your eyes and imagine that it is me, who is giving you that loving, soft hug back as you hold me to your sweet little self. I would love to be your ABDL Phone Mommy hug bunny. 🙂
Wishing you the happiest of Easters,
Lauren