Teased and What else
August 6, 2012
Diaper Phone Sex
August 12, 2012
ab restraints,naughtytime behavior correction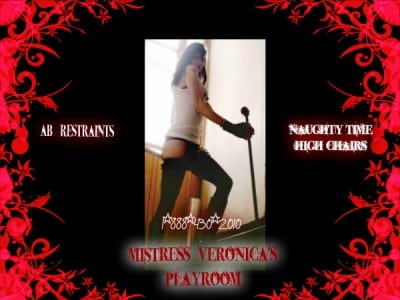 I am a gorgeous gothic Mistress who indulges fully in the art of sexy domination and I really enjoy putting my ab in restraints, he get's out of line and I do not ever hold back my paddle. I let him have it his butt gets very sore when he is in Mistress Veronika's playroom.
he learns very quick just what naughty time behavior correction is all about, Oh yes I get him just where I want him misbehaving & Mistress watches for these sweet little times when I take pure pleasure in making him suffer
as my footstool or perhaps my doormat would be a better way to put it.
He stays in his wet and messy diaper as I humiliate him for being such a pathetic little ab that is good for nothing but my lovely punishments.
He keeps thinking he is going to find a way out of the nightmare I have created for him here in my playroom he has another thing coming his thoughts
won't save him from my wraith.
Crops and gag love
The Viciously sexy Mistress Veronika