Viewing the Auction
June 25, 2013
femdom mommy
June 26, 2013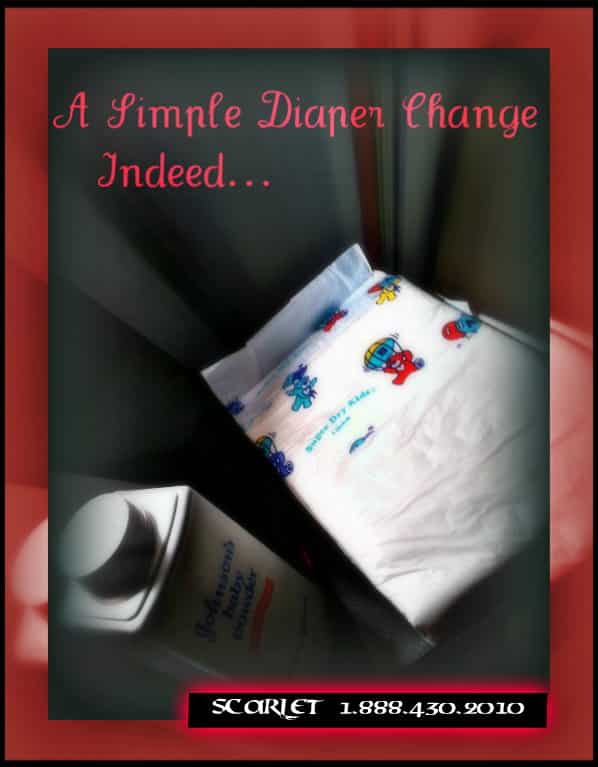 Sometimes when I get the request for a simple diaper change, it's followed by, "Guess asking for a diaper change is kinda boring, huh." Not at all! A diaper change is an intimate time between Mommy and her little one.  You would be surprised at how 'un-boring' a diaper change can truly be. Let me give you just a little teaser…
I lay you down (be it on the bed, a changing table, or even just the floor). I look down at you with a smile across my face, "Does someone need a diapee change?" as I let my hands travel between your knees, my fingers sliding up your inner thighs, using gently pressure to opening your legs to me.  My hands move up slowly and gingerly over the front of the diaper, feeling how truly wet my little guy is. "My my, someone is REALLY wet, aren't they? Oh now, don't you worry, Mommy will get you cleaned up and into a dry, thick, fluffy diapee in no time." With a little tickle on your tummy and a great big smile, my hands make their way to one side, releasing the tab (or diaper pin), then the other.
"Now let's see what we've got here shall we," I grasp the top edge of the diaper and expose your little peepee. I reach for my box of wipes, pulling one out and slowly, with firm but gentle strokes, start to clean that delicate area… soothing that sensitive skin…caressing lightly…
As you can see, a simple diaper change can be anything BUT boring (I told you I would give you just a little teaser, lol)!
Give mommy Scarlet a call and prepare yourself for a 'simple' diaper change.
Mommy Scarlet
1.888.430.2010