Lactating MILF Miss Cate Madison
November 15, 2011
A Mother's Lips
November 17, 2011
XXX (antioxidants) + phonesex= Does a Body Good!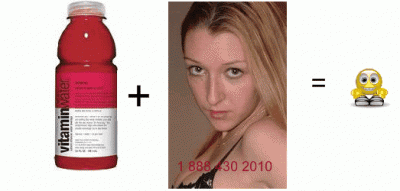 Okay so I love to drink Vitamin water its not only refreshing but really boast the immune system. But even better are the sayings they have on the bottles. On the side of the acai-blueberry-pomegranate one had this saying and you'll see why I just had to share it!
XXX (antioxidants)
c'mon get your mind out of the gutter. we only named this drink XXX because it gives you the benefits of antioxidants to fight free radicals and help support your health. we even added manganese. so in case you're wondering, this does not cost $1.99/minute or contain explicit adult content or anything considered "uncensored." it has not gone wild!!! during spring break, nor will clips of it be passed around the Internet and it has ever been seen live or nude, but it is definitely stacked …with vitamins, that is.
So now that you know vitamin water is not trying to compete with yours truly, go get your vitamin water today, give yourself a much needed boast and then call me for the adult content that does a body good!
Mommy Sara for you naughty role plays and much more!
888*430*2010