February 10, 2013
Hope it is a kinky night for all!
February 11, 2013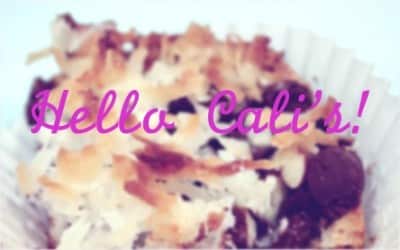 For Valentine's Day I decided to make something extra-specially sweet and yummy. A sweet, sticky, crunchy, and gooey treat that's sure to give you a sugary rush for all the your Valentine's Day plans.
Now, usually these are called Hello Dollies, but, as with most things, I made these all about me hehehe!
Hello Cali's
1 stick salted butter, cut up into chunks
1 1/2 cups graham crackers crumbs
1 1/2 cups chocolate chips
1 cup butterscotch chips
1 cup shredded coconut
1 cup pecans, chopped
1/3 cup sweetened condensed milk
Preheat your oven to 350.
Melt the butter in the microwave and then mix with the graham cracker crumbs. Press the buttery graham cracker crumbs into an 8X8 baking pan.
Then layer the coconut, pecans, butterscotch and chocolate chips in the pan. Pour the sweetened condensed milk over all those yummy bits!
Bake for 25 to 30 minutes until the coconut on top is golden brown and the condensed milk looks sticky and bubbly.
When it's all ready and they've cooled enough cut them into little square and then eat them alllll up hehehe! They're so perfectly sweet and yummy!
Happy Valentine's Day!
Kissies, Cali
1.888.430.2010