Spanking
April 23, 2012
Adult Baby Chat
April 30, 2012
Dominatrix Crissy in the sex dungeon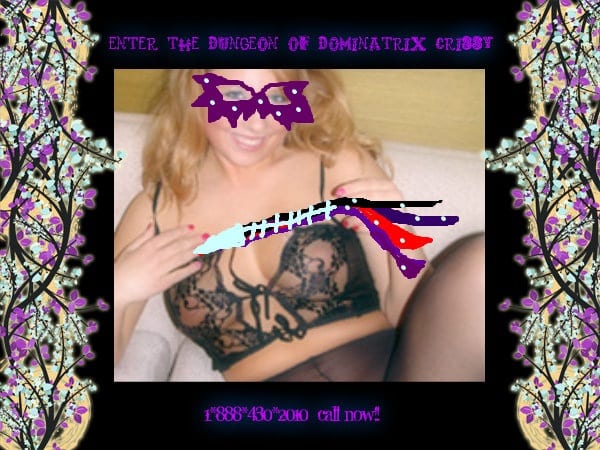 Will you come visit dominatrix crissy in the sex dungeon?
I will be happy to pleasure or dipleasure you in every way u want .
You will grab your ankles when you enter my dungeon door and you will howl with delight!!
I will be dressed in the most beautiful see through black corset for your enjoyment of viewing my perfect  titties ,Yes I know you love my fun bags.
Come and get your rocks off you can lay down on mommy's lap and get a nice handjob with my loveglove full of rubber spikey prongs.
I can also offer a fun glass shower show with two of mommys naughtiest naked friends Sheva and Mystie you can watch as they go at each other's wet pussies with saliva and drenched dildo's.
Mistress Mommy will cum up behind you and slide a sweet finger in your asshole and make you taste her nailpolish oooh sound so fun I can't wait to fuck you with my fuzzy strapon!!
I have nipple clamps just for you they are pink and shiny and I like to immerse them in  ice before I use them.
My dungeon is filled with toys of all shapes and sizes that I have added my own special creative touch to as well.
my whip made of cock rings and my cat of nine tails made of leather from dog collars and my rubber body chamber that
I encase you in while your penis is left out and ripe for the playing with I just know you will find it all SINtilating!
The neighbors will feel the moaning and screaming miles away .
XXXXXCrissyXXXXXX
Call me so I can tell you all about what I will do to you and for you.
I can watch you on cam during a call.
I offer text sessions as well as call sessions.
YIM:phonemommycrissy