Celebrate your ABDL Mommy
May 9, 2012
Stocking Fetish
May 10, 2012
Breakfast In Bed With Mommy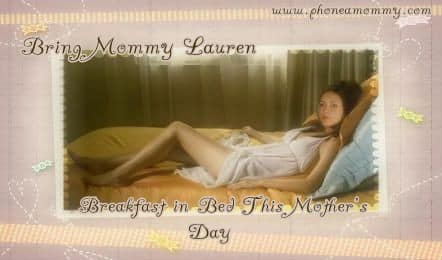 How would you like to spend Sunday Morning in bed with Mommy having breakfast?  I know how excited you are when you the mere thought of my soft skin next to yours as you climb under the covers with me. The bed still warm from my body, the smell of my perfume on the pillows and bedding.  You telling me Happy Mother's day with that sweet smile on your little face.
After we finish off the wonderful breakfast that you so lovingly prepared for me. Perhaps you and I can spend some much needed special Mommy and you time together.  Think of all the delicious ways we can 'relax'.  I know you are thinking about it right now. Aren't you?
You aren't the only one who thinks about being in bed with Mommy. Oh no sweetie. I think about it too, especially when Daddy is away.  That seems like the only time that we can play our special games.  I miss those times with you oh so much.  They are our little secret, aren't they? Come slip under the covers with me, and have some fun in bed with Mommy this week.
Mommy Lauren
888.430.2010