Sissy Training at Phone a Mommy
December 23, 2011
Anal Play at Phone a Mommy
December 31, 2011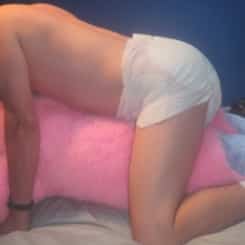 My new little ABDL abie was crawling around on the floor in his diaper and I noticed that apparently he forgot the rules that he wasn't allowed to make squirties without permission. He was grinding his weewee against his diaper against the floor. Little jackoff guy was humping his diaper on the floor with his plushie. How cute.
I guess putting all that Vaseline all over his pathetic little weewee when I changed his diaper last was a mistake.
"Ok, well if you want to break the rules then here, mommy will help you," I tell him as I walk over and undo his diaper.
"Now stroke it jackoff guy."
He looked happy to be allowed to stroke until I grabbed a hold of his legs and pushed his knees back against his chest and made him aim his little weewee towards his own mouth.
"If you want to try to make squirties without permission then you get punished. You will keep stroking until you make squirties in your mouth. If you shoot and miss your mouth you will lick up every drop right here in front of mommy……."
Are you ready for some of Mommy Maggie's "special" training?
1-888-430-2010